I have a theory that I have been workshopping for a little while now and the basis of this theory is that I never want to meet any of my heroes. I don't want to meet my favorite athlete, my favorite actor or my favorite musician. Hell, I don't even want to get to know the guy from Dunkin Donuts that makes my iced coffee just right.  I have seen far too many of the people I used to idolize come crashing down like a house of cards (get it?). I found out that my favorite comedian was pulling his penis out and masturbating in front of female colleagues (Louis CK). My favorite tight end was running around shooting anyone that looked at him wrong in the club (Aaron Hernandez). My favorite college football coach was turning a blind eye to systematic molesting of children (Joe Paterno). Even my favorite QB doesn't drink beers and kisses young men on the lips (Tim Tebow).
With that being said, I now present to you the first installation in the series "Never Meet Your Heroes"
David Meggett the Hero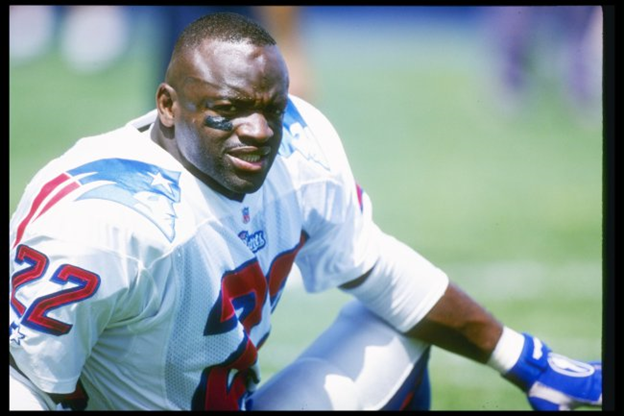 Some of my first memories of watching NFL football are of Meggett. He was the human joystick that made the kind of plays that make you fall in love with watching football. There was nothing better than hearing Chris Berman say "look-at-that-little-Meggett-go" as he broke another punt return to the open field. Along with Bledsoe, Ben Coates and Terry Glenn, he was one of the true super stars from the Patriots run to Super Bowl XXI. If you look closely at this picture of my brothers and me and you can clearly see Meggett on our 60" HD TV: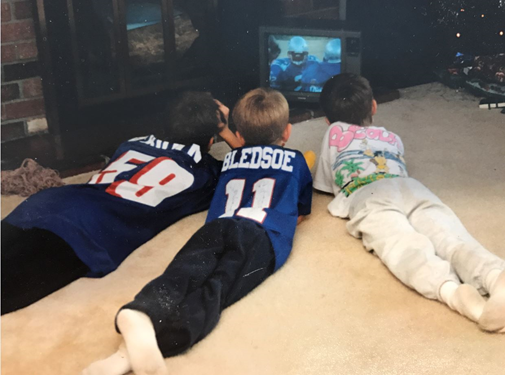 He finished his career as a fairly accomplished football player. He won the Walter Payton Award at Maryland (best offensive player in college football), he was a 2x pro bowler, 3x all pro, and his 3,708 punt return yards are currently the second most in NFL history.
He was just plain old fun to watch. He was probably shorter than the guy that bags your groceries (5'7") but he didn't play that way. He was in that short-guy-you-can't-help-but-root-for category. There is something about the fearless little guys that always make them crowd favorites. It is the David vs Goliath effect and it's true across all sports. Is Dustin Pedroia a crowd favorite? PJ Stock (ass-kicker)? Isiah Thomas? You can have your athletic freaks like Lebron and I'll take the dudes that weighs the same amount as me.
David Meggett the Monster

I was actually unaware of this but it turns out that, off the field, Dave Meggett was one horny, sadistic piece of shit. By all accounts, he was the type of sexual deviant that would make Tiger Woods blush. Just take a look at a couple of these quotes from the SB Nation article about his life after football:
"But the domestic violence charge hinted at a capacity for violent rage toward women, and the solicitation arrest now seemed like an early indication of an uncontrollable, destructive sex drive, as well as a deep-seated attitude that women were disposable sex objects."
 "Then he turned to the victim and said, "I don't know if OJ did it, but I understand how he felt." Then he head-butted her. Doctors saw red marks on her forehead head and neck when she went to the hospital."
Comparing your relationship to women to OJ seems like it could be red flag. The rap sheet of his legal troubles would take a novel to document so I'll just give you some of the high(low)lights:
In 1998, Meggett was arrested in Toronto, Canada, after authorities said he allegedly assaulted an escort worker after a three-way sexual encounter. "The Patriots released him before the 1998 season, adhering to team policy under owner Bob Kraft that violence against women would not be tolerated". It is almost refreshing to hear of an organization getting discipline right the first time especially with the seemingly endless stories we hear these days about organizations and/or people in power turning a blind eye.
Meggett later worked as parks and recreation director in Robersonville, N.C., but resigned in 2006 after he was accused of sexually assaulting his former girlfriend. In 2007, he was convicted of misdemeanor sexual battery in the case, receiving two years probation. Leslie Knope would have been appalled with this type of behavior.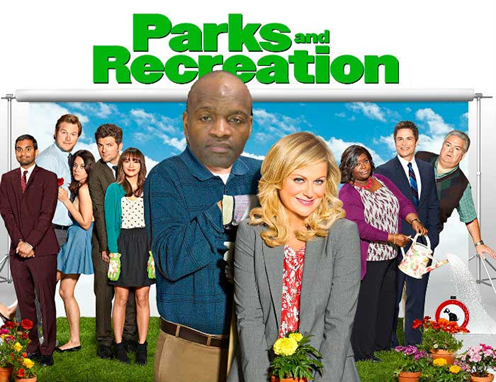 Meggett allegedly had nine illegitimate children with eight different women. Walking around like the goddamn Fertile Crescent over here. Those of the kind of numbers that put him on the ballot for the athlete baby-mama HOF. Based on a brief internet search, let's take a look at some of sports' most fertile men: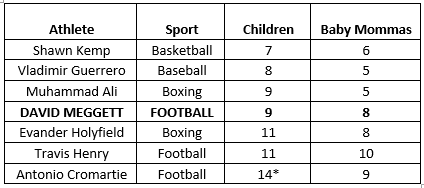 • In 2010, Meggett was sentenced to 30 years in prison for burglary and criminal sexual conduct in a case involving an encounter with a college student at her house in North Charleston in January 2009. His current release date is slated for July 2034. It took basically a lifetime's worth of accusations, evidence and arrests but finally this scumbag is locked up for (what one would hope) the rest of his life.
The moral of this story is that 9-year old Greg Brown thought David Meggett was a real standup guy for the sole reason that he was good at football. And the truth is 9-year old Greg Brown had no idea who the real David Meggett was. Just like 29-year old Greg Brown has no idea the kind of person his favorite athlete/actor/musician is. Not that we can't appreciate these people for their incredible talents but you have to compartmentalize it. You have to separate the talent from the actual person. I like Tom Brady the football player. But god only knows what he does behind closed doors, and I think I have come to the conclusion that I have no interest in meeting Tom Brady…….unless of course I actually get the chance, in which case, fuck yeah I would. It's Tom Brady.