Tommy Touchdown setting another NFL record for QBs really isn't breaking news at this point but his most recent record is an interesting one. Going into the 2018 season, Brady had thrown TDs to 70 different Patriots players (playoffs included). That was enough to be tied with mid-1990s NFL legend Vinny Testaverde for the most TD passes thrown to different receivers. Vinny leading this list might surprise you but the fact that he played for eight different franchise (including the 2002 Patriots) might be part of the reason why. Brady's week 1 TD pass to Philip Dorsett officially put alone atop the mountain with a record 71 different TD receivers.
Having grown up in the prime of Tom Brady touchdown tossin' I thought I would put the old melon to the test and see how many of the 71 players I could name. Turns out it is a lot harder than you think. I spent the better half of a Friday afternoon in the cubes taking the sporcle test back-to-back-to-back until I felt satified that I named as many of them as I could. If you interested in taking the test the link is here:https://www.sporcle.com/games/Balin/bradys_bunch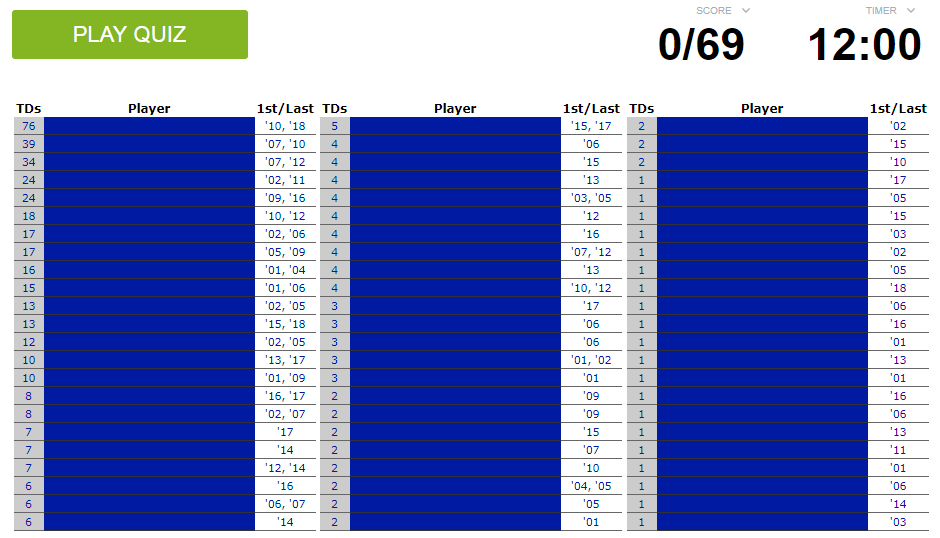 Note: It says 0/69 but two players only caught playoff TDs and are listed if you name them (hint: one of them is an OL).
The final number I finished with was 49/69. Am I a bonafide Patriots savant? Should Belichick hire me to analyze Patriots game tape? That's not for me to say, but yes, yes he should. Being the man of integrity that I am, I will admit that it took me 3 or 4 times to get that score (busy day at the office) and on my first attempt I probably only named about 35 or so. Nevertheless, I was proud of the Brian Tyms and Patrick Pass name drops.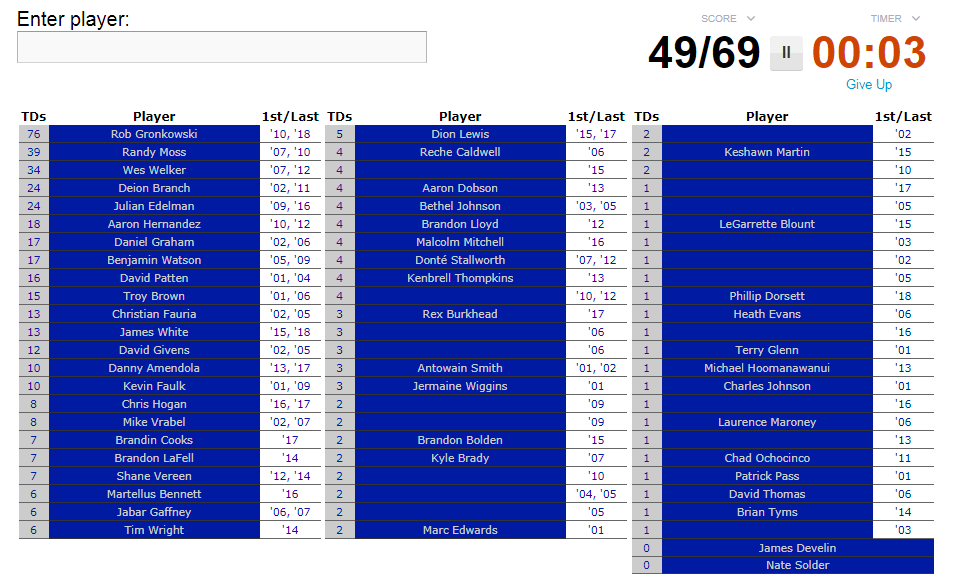 SPOILER ALERT
The completed list of all 70 players looks like this: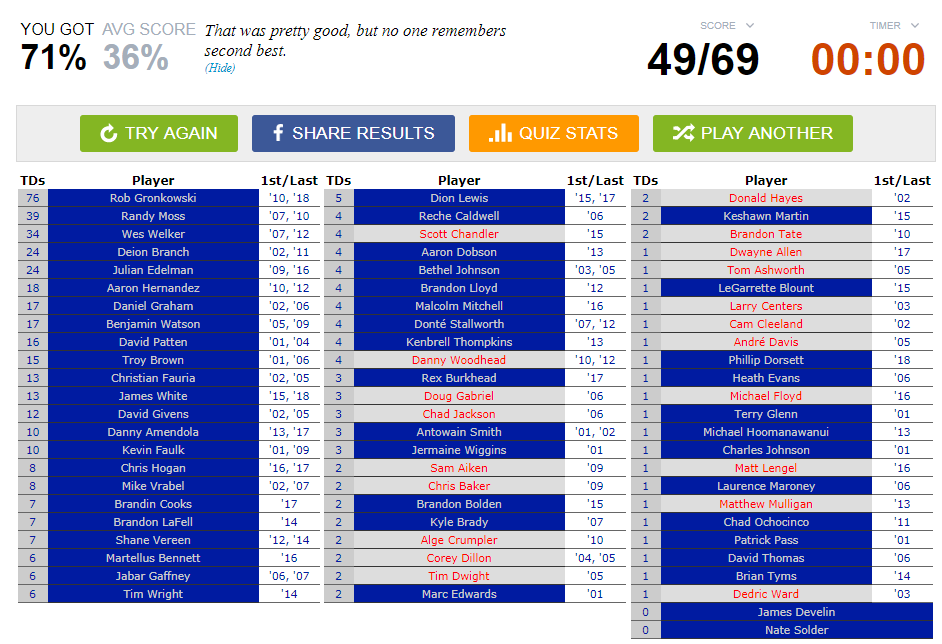 The always selfless reddit user /timnog also performed the public service (per usual) of compiling the videos of each of these TD passes:
Couple players of note:
Mike Vrabel: He caught EIGHT touchdowns, two of which were in Super Bowls!! To be fair, he did have quite the pair of mittens on him (the one-handed-self-tip-catch in SB comes to mind).
Kyle Brady: Brady to Brady is something I can get behind. Just typing those words gets me hard.
Terry Glenn: Classic Patriots trivia answer is that Terry Glenn caught Brady's first ever TD. It's a shame they didn't play together longer because she was a really talented WR.
Steven Ridley: He had a total of 22 rushing TDs for the Patriots but never had a single TD reception. I must have tried 5 different spellings of his name because I was sure he would have been on the list.
Michael Hoomanawanui: It is impossible to spell his last name without googling it.
Now we just wait another week or two until we can add Corey Coleman to that list.