I have had a long standing opinion for a while now that the best job in professional sports is that of a backup quarterback in the NFL. I am well aware that the starting QB gets all the glory. There probably aren't many 10 year olds out there dreaming of one day growing up to be the backup QB but hear me out for a second.
A lot of the perks that come along with being a starting QB aren't all that dimished when you are relegated to backup. You still get paid QB money (more on that later), defenders still aren't allowed to tackle you at practice and you can still put "NFL Quarter Back" in your tinder profile without lying. Not to mention you aren't trotting out there week after week getting rag dolled by the likes of Lawrence Taylor until your brain is a CTE induced bowl of oatmeal.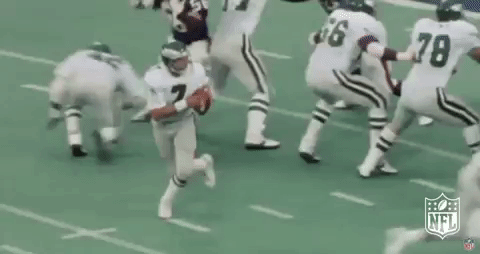 But the BEST part of being the backup is the standard of expectations. The bar for success is set extremely low.  If you come in and struggle, well, yah that's to be expected; that's why you're the backup. You probably won't lose your job over it (ref: Brett Hundley). BUT, if you perform well (or are even just competent), you are already a Hollywood feel good story. Hell, you really only have to play well for a single game and you might as well start making calls on that yacht you've always had your eye on. Matt Flynn made $20 million over his career essentially based off a single, meaningless week 17 game. He had started a grand total of two NFL games when he signed a contract with a $6 million signing bonus in 2012. Ain't a bad gig if you can get it. As long as you don't kneel during anthems you should be a shoe-in for a high-paying, low risk, low expectations career in professional sports.
With that in mind, when I heard the Dan Patrick show discussing the question "would you rather swap lives with Nick Foles or Ryan Fitzpatrick right now?" it's safe to say my interest was sufficiently piqued. Two of the most prominent backup QBs of our generation! This is the type of sports debate I can get behind. MJ or LeBron? Brady or Manning?  Fuck that, I'm trying to debate Fitzy or Foles. So in that spirit, let's take a deep dive into the sports debate of our generation 
Money
You can easily look up the career cash earnings for both players so there isn't too much wiggle room in debating which one of these guys has the more impressive bank account.
Nick Foles

– He entered the league in 2012 and over his 7 years in the NFL he has made just a shade under $30 million over his career. Certainly nothing to sneeze at.
Ryan Fitzpatrick

– He entered the league in 2005 (this dude is 35?!) and over his 14 years in the NFL he has made a cool $58 million. Not too shabby for a 7th round pick.
Verdict: Ryan Fitzpatrick. The numbers don't lie and as today's great modern poet Soulja Boy so eloquently put it; Fitzy "gettin' to it every day, when you see the kid know that the boy guappin'. And when you see me in the mall, it's me and my team shoppin'. Money in my pocket, pocket, pocket, pocket".
Note: If you are Caucasian and "guappin'" is new vernacular to you, please allow Urban Dictionary to elaborate:

Legacy
Both of these guys are pretty well accomplished considering their status as perennial backups. But the questions is how will they be remembered 10 years after they are retired?
Nick Foles

: Super Bowl Champion and Super Bowl MVP. Enough said really. Your legacy isn't going to get much better than that. Some people might remember his 27:2 TD to INT ratio from 2013 (I had already forgot), which is impressive in its own right, but people will never forget the 3 game stretch he played in 2018. Well, besides me because I have selectively blacked out my memory of anything past the AFCCG.
Ryan Fitzpatrick

: Fitzy has seen the highest of highs and the lowest. From his current streak of 3 straight games of 400+ yards to his 6 INT in a single game in 2016. My guess is that, barring something spectacular this year with the Bucs, he will largely be remembered as that journeyman QB with a beard thick enough to make the Duck Dynasty guys blush.
Verdict: Nick Foles. Super Bowl MVPs trumps facial hair, just barely though (….by a hair perhaps?)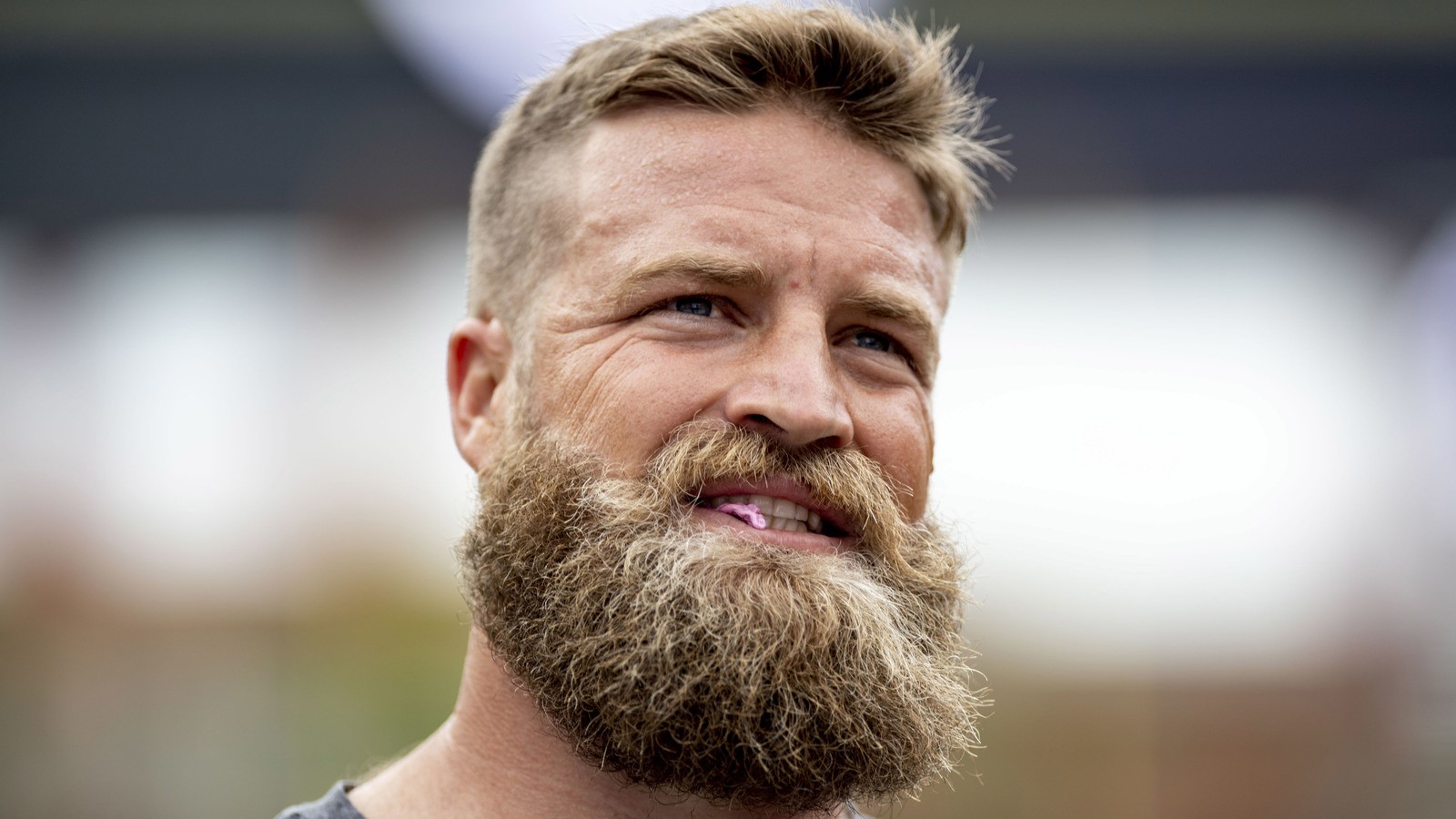 Off-the-Field Reputation
This is where it starts to get fun because both of these guys have some unique off the field characteristics that are pretty memorable.
Nick Foles

: He looks like a pretty unassuming dude but anyone that has ever used the internet has heard his infamous locker name nickname: "Big Dick Nick."  We are talking eggplant emojis folks. An infants arm holding an apple. I really do feel bad for Nick that such vicious rumors like this have followed him around his whole career. It must be so tough on him; people always asking him if the reports are true. Women constantly speculating about his girth. Men desperately wondering how their own units compare. Must be quite a burden for Nick "I hope she has large holes" Foles. Just made that one up myself, bet you couldn't tell.
Ryan Fitzpatrick

: Did you guys know that he went to Harvard?! It truly is one of the NFL's best kept secrets. Sometimes I forget that little fun fact, until the commentators mention it at least 5 times in every game he plays in. I am sure he is very smart but as Robin Williams once said "god gave men a brain and a penis and only enough blood to run one at a time," so I am assuming he takes the back seat to Foles in this category.
Verdict: Big Dick Nick. When you have grown men tattooing your penis size on their butt cheeks you win the reputation category. That's just a rule of thumb I have.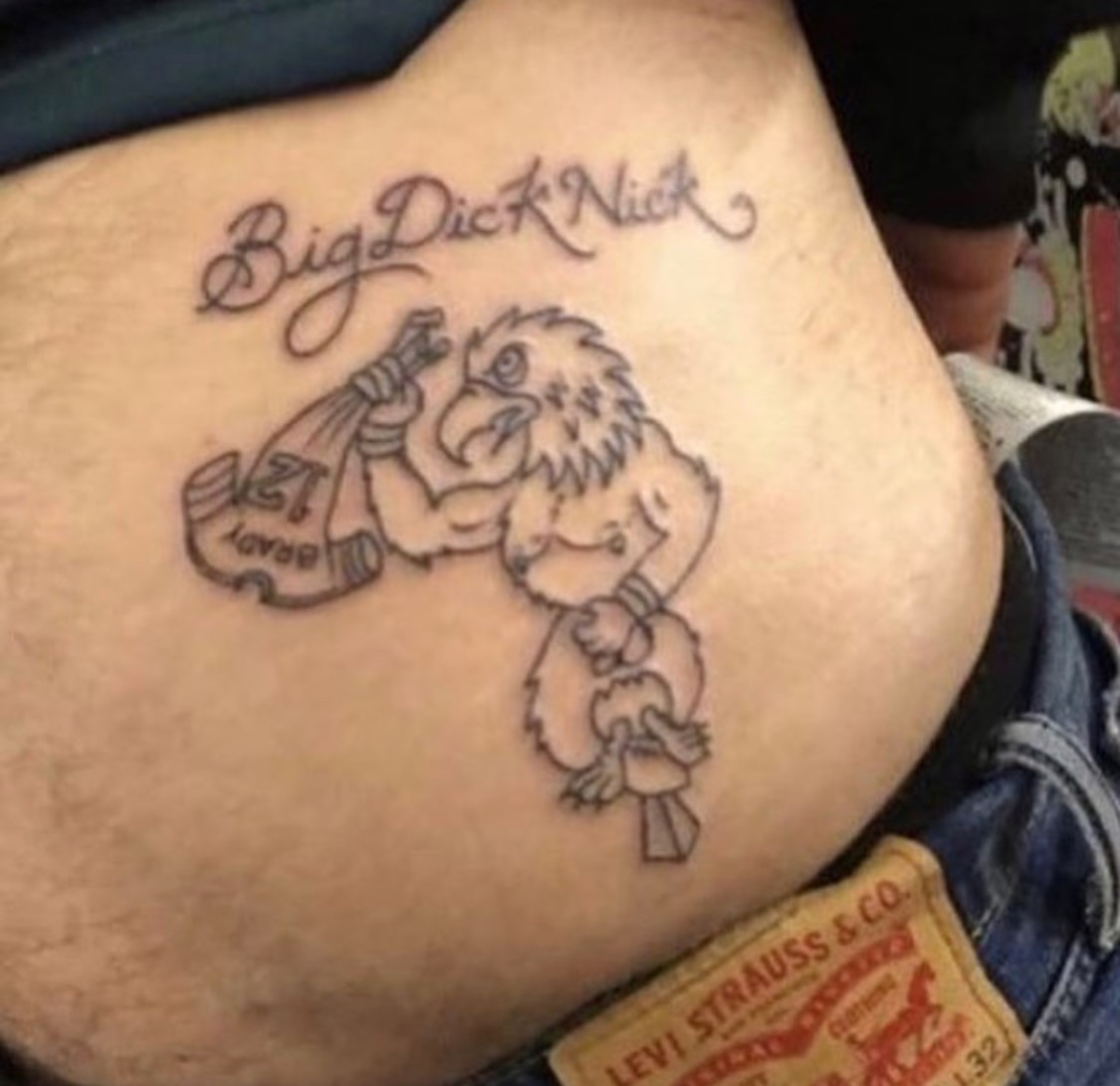 Future Prospects
Nick Foles:

As far as on the field prospects go, Foles probably has the edge given that he is 29 years old compared to Fitzpatrick who is 35. Being a backup, he still has plenty of tread on his tires (another advantage) but the fact he went from Super Bowl MVP directly back to the bench is disconcerting when you consider future prospects. And to be fair, nobody really even argued about it. Even when he was being shopped around by the Eagles there didn't seem to be too much interest. I'm sure he will hang around the NFL for another 5-7 years but most of it will probably be with a hat and a clipboard.
Ryan Fitzpatrick

: The immediate outlook looks more promising for Fitzpatrick as he seems to have won the starting job for now (until his next INT dump). The Bucs could possibly make some noise in the NFC but the real future value for Ryan lies in post-retirement Fitzpatrick. He's got all the qualities you would want for an NFL announcer/analyst: the experience, the charisma, the beard, the ability to talk over 4 other co-hosts and the education (he went to Harvard). He is pretty much just a hairier version of Tony Romo.

Verdict: Ryan Fitzpatrick. Did you know he went to Harvard?
Sex Appeal
I am going to just let the pictures do the talking on this one.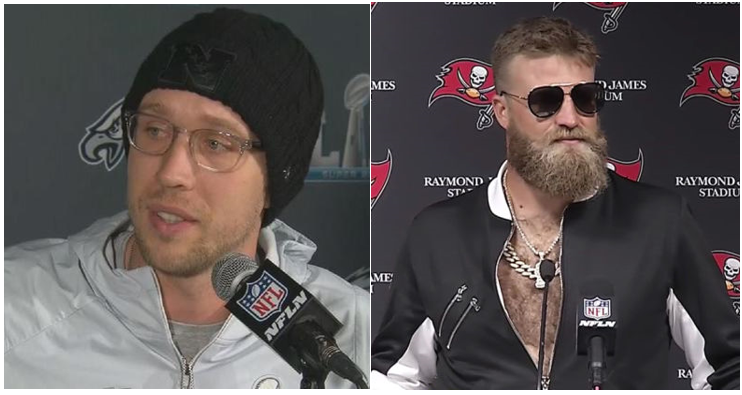 Verdict: Ryan Fitzpatrick. Fitz-Magic is just oozing sex appeal. So hot right now, so hot.
Final Verdict: By my count, that is 3-2 in favor of Ryan Fitzpatrick. So, to answer your question Dan Patrick, I would rather swap lives with Fitzy at this point in time. Let me make one thing abundantly clear though: I would be more than willing to swap lives with either of these great men. I consider them both to be not only personal heroes and role models, but two of the best backup QBs to ever play this game. They truly set a new standard for setting a low standard.