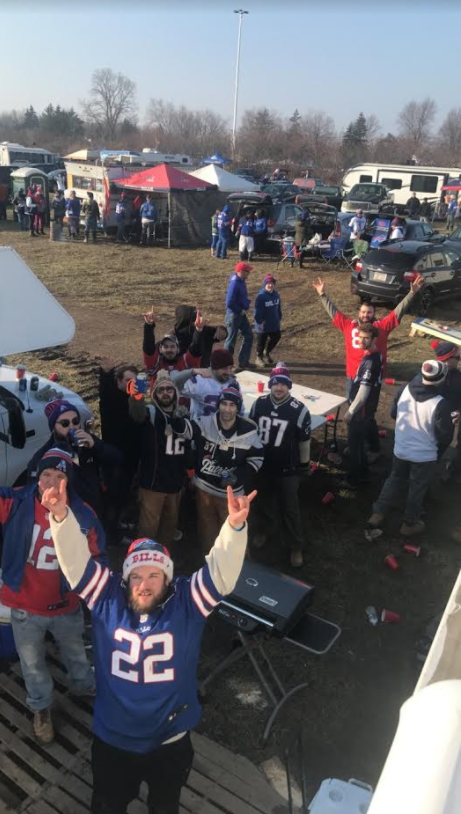 The rise in popularity of the Buffalo Bills fans dubbed the "Bills Mafia" has been fairly well documented in recent years. Typically you'll see videos or stories of tailgaters being thrown through tables, dildos appearing on the field or retirees being doused in ketchup all while wearing 90s style pajama pants. But are the rumors true? Is the Bills Mafia all it is hyped up to be? Well lucky for you I did some investigative journalism to get to the bottom of it. So here it is; a firsthand account of the Bills Mafia at their Sunday best.
PLANNING TIPS
Being the well-traveled young man that I am, I know that the key to enjoying your trip to Buffalo is to really immerse yourself in the local culture. Here's a couple tips to embracing everything the city of Buffalo has to offer:
If you are within driving distance you are going to want to rent an RV. It is probably advisable to treat the security deposit as a sunk cost when you are budgeting.
Be prepared to be reminded that Tom Brady kisses his son on the lips, wears Uggs boots and enjoys an occasional foray into non-heterosexual activities. This language is despicable, crude and unseemily for most Patriots fans but, again, you will want to assimilate to the culture. Let them know that Tom Brady would rather kiss his own son than any one of the trailer park monsters/ghouls they have trolling around the city of Buffalo. It's all part of the spirited back and forth between passionate fan bases.
Park at an overnight private lot. The stadium owned lots are monitored fairly closely but the private satellite lots are where the real mayhem happens. We have parked in the "Mud Lot" in recent years (see below) which has lived up to its namesake both metaphorically and literally.
This probably goes without saying, but you'll want to bring enough alcohol to maintain a 48-72 hour buzz.
You need to embrace the filth, you can't escape it so you might as well just enjoy it. That being said my bag consisted of 1 pair jeans, 1 pair sweatpants, 2 pair socks, 2 pair undies, 7 Patriots jerseys.
NOTE: DO NOT live your day-to-day life like this, I am writing this on Thursday and I still haven't passed a solid one.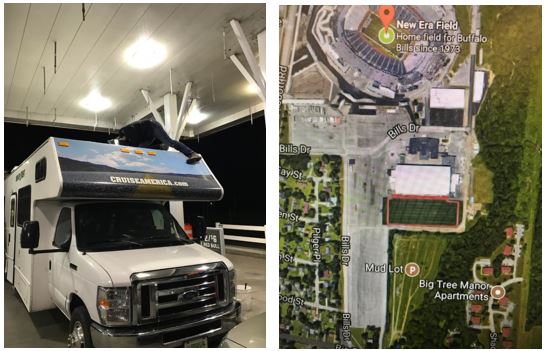 Our camper of six Pats fans left NH Friday evening and arrived at the aptly named "Mud Lot" at 3am Saturday morning (7-8 hr drive). It is a privately owned lot within walking distance of the New Era Field where you pay $120 to pretty much stay as long as you want. We met up with the rest of our traveling vagabonds (in their own RV) and pretty much had the lot to ourselves for the better part of Saturday. We drank, we sang, we laughed and enjoyed each other's company……..and then Saturday afternoon marked the arrival of the first Bills fans and marked the arrival of the infamous Aunty Patty.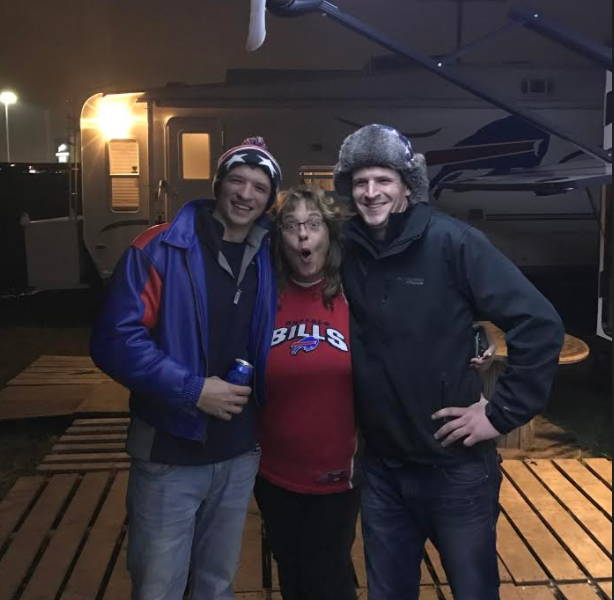 AUNTY PATTY
If you don't already know Aunty Patty, then shame on you. Aunty Patty is your best friend and your worst nightmare with an unquenchable thirst for Canadian whiskey. Aunty Patty is a 50 year old divorced season ticket holder and a 15 year veteran of the Mud Lot. Essentially, she is the ringleader (hence the nickname "Aunty" Patty) of a group of 40ish Bills fans tailgate at the lot every home game. We met rather unceremoniously as a result of a pallet burning misunderstanding. After a brief heated discussion (one of her more protective associates was ready to "get busy"), all grievances were dismissed and Aunty Patty was insisting each of us take a shot of whiskey with her. Over the course of the weekend we ended up learning quite a bit about makes Aunty Patty tick:
Patty "doesn't need sleep – maximum of 3 hrs a night." To her credit she was up drinking with us until 3am Saturday night and banging on our RV door at 7am Sunday morning.
Patty learned our names (all 12 of us) by repeatedly quizzing herself and taking a shot of whiskey for every wrong answer.
She was like your Italian grandmother that won't let you stop eating except she was your Buffalo aunt that won't let you stop taking shots of whiskey.
Patty loves her some Bills. You don't just get awarded Season Ticket Holder of the Game for nothing (see below).
Patty isn't in it for the fame. She doesn't have a twitter, facebook or instragram account but she will sell you 10 pallets for $40 (she hauls them there herself).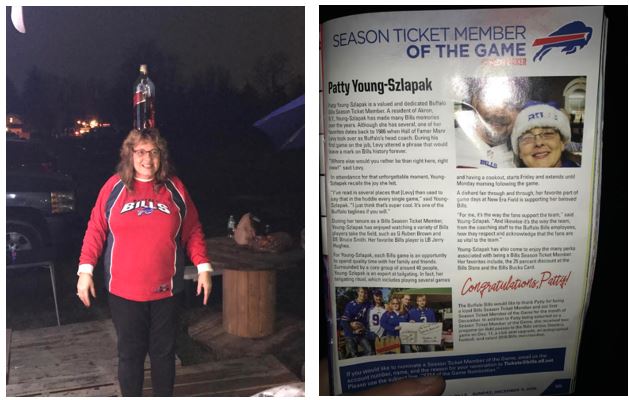 GAMEDAY
We woke up on Sunday at 8am and the Mud Lot was already filling up around us. I have been to quite a few Patriots away games and typically the fan base travels well enough that you'll sometimes forget that you are even at an away game. But not the Mud Lot. There is no doubt you are in enemy territory. My guess would be the tailgate was approximately 90% Bills fans. I could try and describe the scene but I think it is best to really let the images more or less speak for themselves.
Here we have a Bills fans peeing directly on the door of a Port-a-Potty: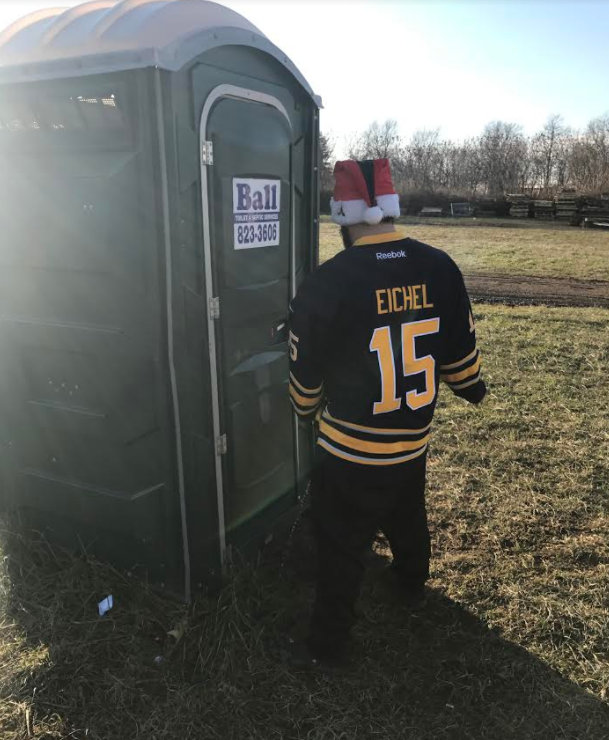 Here we have a purely speculative Brady shirt for sale: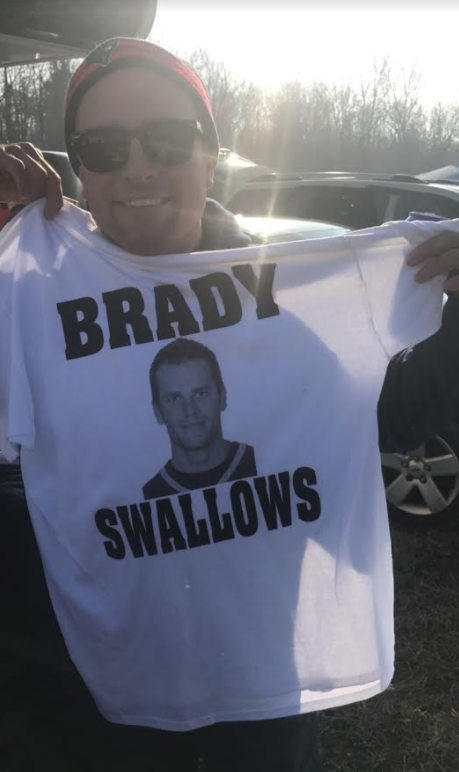 And, of course, we have the coup d'etat of Bills Mafia culture……Bills fans choke slamming other Bills fans through tables:
Don't worry though guys, not a drop was spilled: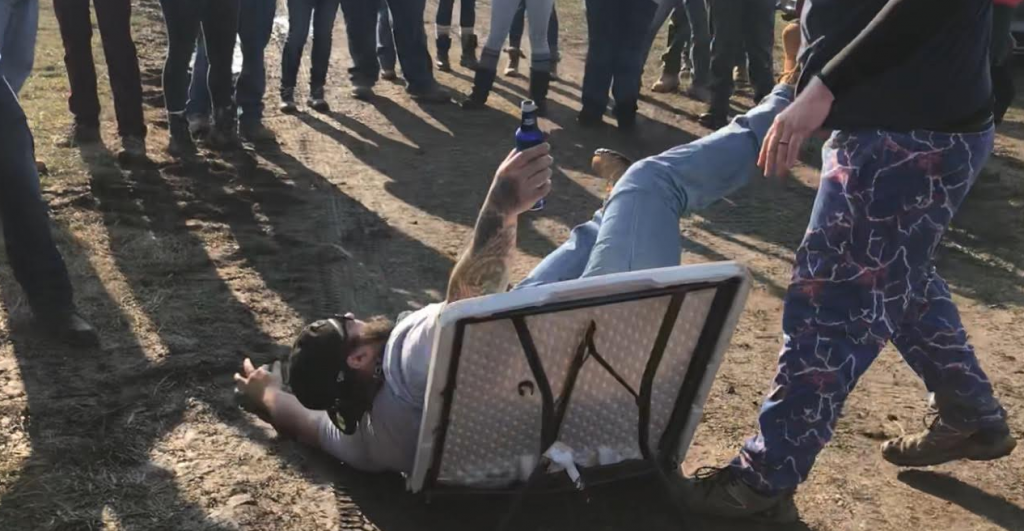 While it is important to assimilate to the culture you also must remember to stay true to your roots. After all, the reason we were all there was for Jesus in Cleats himself, Mr. Thomas Edward Patrick Brady Jr. And what better way to pay tribute than a visual representation of an anatomically correct Tom Brady: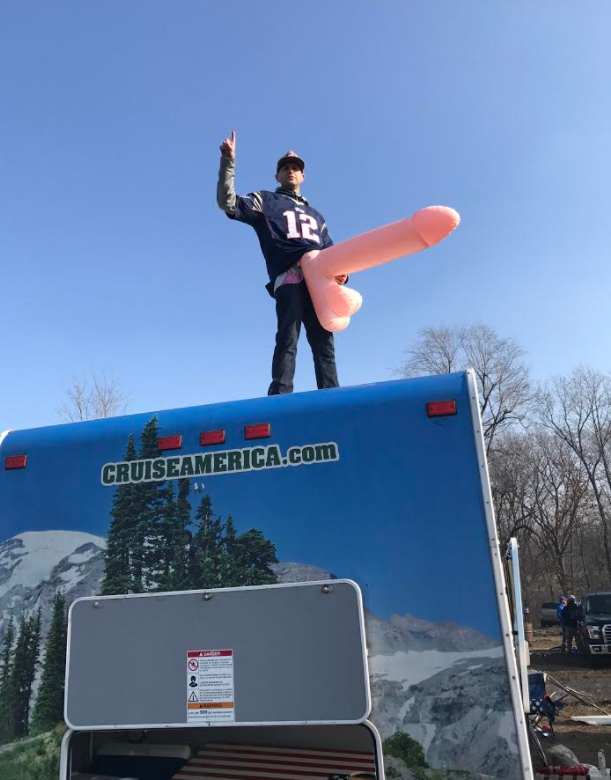 If anyone is going to appreciate a good dick joke it's the Bills fans. I'll give a pass to the guy that threw an empty beer at me while was up there (luckily he had the accuracy of Nathan Peterman). Might have even earned me my 15 mins of fame. My mother would be so proud: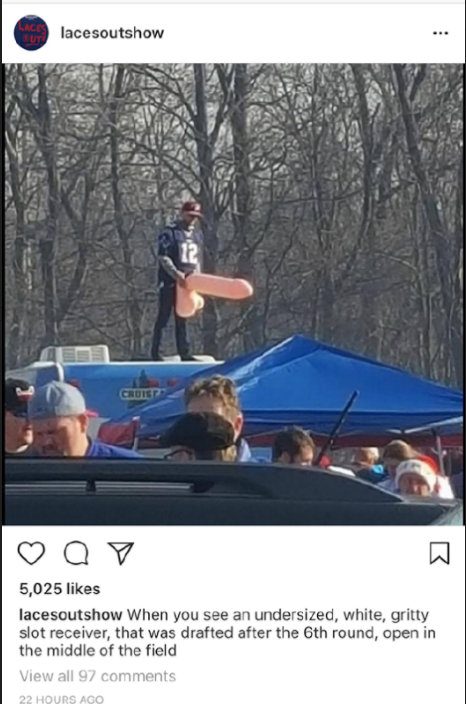 At the end of the day, I think all that attended agreed that the Bills Mafia more than lived up to their sparkling reputation. Simply put, it is like no other NFL tailgate I have ever been to.
The true beauty of the Bills Mafia is how genuine it actually feels. Often times, once the media gets ahold of a fad like this, it quickly gets monetized and ends up feeling corny and forced. The Seahawks "12th Man" is a perfect example. I am sure the Seahawks fans passion was born out of a very real love for the team and the city. But ever since the media caught wind of it and the fans became self-aware it has turned into something else. The "12th Man" now feels like a circle jerk that only exists for the purpose of selling t-shirts, selling flags and filling segments on ESPN's NFL Countdown. The Bills Mafia is the exact opposite of that. The chaos is real, the fans are real (see Aunty Patty) and the entire atmosphere feels genuine. Here's to hoping it stays that way. Never change Buffalo, never change.
Oh yah, and the Patriots beat the Bills 23-3.