As the start of the NFL season rolls around, the hot-take football media are firing up their typewriters, dipping their quills in ink and embarking on their annual tradition of asking the question we have all been wondering for 18 years; "Is the Patriots dynasty coming to an end?" Predicting the demise of Tom Brady is an autumn tradition like no other. It has become as much a part of football as the sound of colliding shoulder pads, the smell of freshly cut grass or the theme song to Hard Knocks. To truly appreciate the scope of the discussion, I suggest a recent article MassLive wrote that does a fantastic job of documenting some of the highlights over the years.
In the spirit of hot-takes I decided to throw my hat in the ring and jot down some official predictions for the 2018 NFL season. Each of these predictions has been formulated through hours of internet research (reading Wikipedia) and through analysis provided by highly regarded NFL insiders (I watched 2 episodes of Jay Cutler's reality TV show).
Disclaimer: If any of these predictions are wildly incorrect then they were written purely as satire.
A major injury will totally ruin your co-worker's fantasy team
As much as the NFL is "trying" to make the game safer for the players, the number of injuries to star players seems to increasing year after year. It might be stemming from the coaching trend of resting players during training camp (looking at you Hue Jackson), the fewer number of full-contact practices under the new CBA or possibly the fact that more and more NFL players are freak athletes that know how to lay that CTE lumber. But regardless of the reason, it's hard to deny how injuries are impacting the modern game. Just look at the All-IR Team from 2017 and tell me it's not impressive: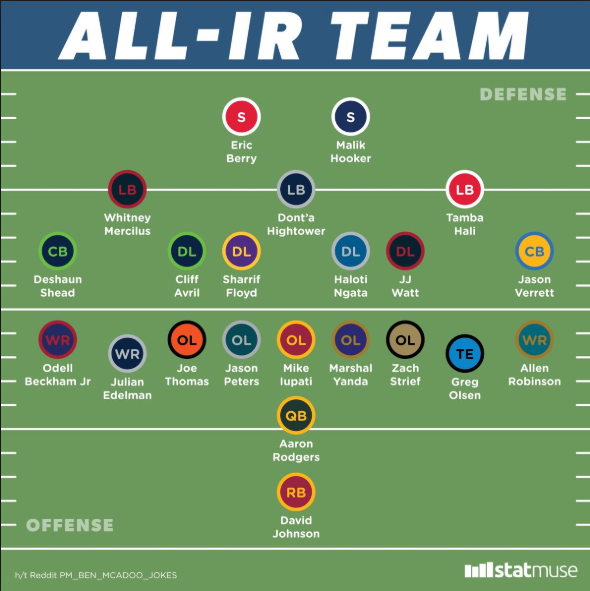 What else is hard to deny about the modern game is that fantasy football has become as ubiquitous as the actual game itself. So when Kareem Hunt tears his ACL in week 5, you better expect Rick from two cubes over to immediately tell you how "fucked" his team is now. That was his first round pick after all. Cannot believe he spent $15 to join this league and now THIS happens. It sucks too, because his team was so stacked especially since it is a PPR league. I wonder who his backup is. But I got good news for you Rick, nobody cares about your team "Multiple Scoregasms" except for you buddy.  
Predicting injuries might as well be pulling names out of a hat but for posterity's sake I will give you a name: Alvin Kamara will suffer a season ending injury at some point this year……pray for Rick.
The AFC will have a sub-0.500 team make the playoffs
The division of power between conferences in the NFL is quickly becoming more and more NBA-ish. Granted you can never tell which teams will actually be good until games get played in the NFL, but on paper the NFC looks like it has far more meat on the bone. The Vegas Super Bowl 53 futures odds have only two teams from the AFC in the top 8. Behind the Patriots and Steelers (and I'll throw in the Jaguars), who in the AFC are you confident will win more than 8 games? Outside of NE, PIT and JAX only three AFC teams have a Vegas season win total over/under of more than 8 (HOU, LAC & KC). Meanwhile, you could make a legitimate Super Bowl case for 6+ NFC teams. I tell ya what, the AFC truly will have a vacuum of power when Brady retires in 2025.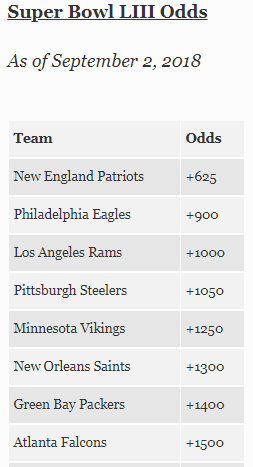 Marvin Lewis finally gets relieved of his duties
Marvin Lewis is essentially just the AFC version of Jeff Fisher. He has now been the head coach of the Bengals for FIFTEEN years. He was hired when George W Bush was still in his first term. And do you want to guess how many playoff games he has won in that time? Zero. Absolutely fuck all. He is 0-7 in the playoffs and a spectacularly pedestrian 125-119-3 overall (0.512 winning percentage). If you are a fan of mediocre head coaching you are rooting for Lewis to finish 5-11 and accomplish what Fisher never did; the vaunted career 0.500 record with 200+ games coached. He already ranks among some of the best (most average) to ever do it:

Excitingly, a 5-12 season for the Bengals isn't out of the realm of possibility. The Steelers are still likely the class of the division, roster shakeups and real life QBs have people optimistic about the Browns and the Ravens have been a trendy pick for the Super Bowl. Yes, I know Lewis signed a 2-year contract in January but the Rams fired Fisher only one week after signing him to an extension. It's time for Lewis to join Fisher in retirement.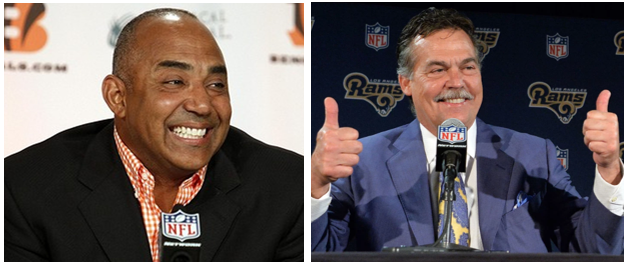 The Eagles opening night Super Bowl ceremony will be delayed by weather
I don't know why but I just have a hunch on this one. It is almost like the heavens don't want the ceremony to go as planned. Guess we will just have to wait and see.
A Cowboys, Redskins or Raiders fan will get a 'Super Bowl 53 Champions' tattoo midseason
The story of the over-stimulated sports fan that gets a championship tattoo midseason when his team is playing well is a story that pretty much writes itself at this point. We have all seen it a million times by now. Team plays well, guy gets tattoo, team loses in horrific fashion. Google images returns pages and pages of these tattoos. It's predictable in the sense that we know someone will do it. The key to this prediction is knowing who will do it. Every fan base has its idiots but there are a few specific factors that, I believe, wield heavy influence:
1: No recent success – Eagles fans would have been top of this list if not for their SB last year. Any mouth breather going to get the tattoo would have already pulled the trigger after eating horse shit off the street at the parade.
2: Rabid fan base – This doesn't actually have to be true as long as fan base perceives itself as being rabid. Seahawks fans are corny but I guarantee there are plenty of people walking around with "12th Man" tattoos. If your fan base is generally disinterested and everyone knows it, then the odds of the tattoo are slim (see: Titans).
3: Chance of midseason success: I would include fan bases like the Browns and Jets but the only true impetus for the midseason tattoo is unbridled optimism. If your team is 2-6 (as I expect NYJ and CLE to be) then your optimism is very much bridled.
4: Trashiness: I can't stress enough how important the appropriate level of trashiness is. I'm talking people that get in fights at Chuck E Cheese. Ladies with tramp stamps and dudes with sexually explicit bumper stickers on their trucks. The kind of folks you see screaming at their kids in Wal-Mart. These types of people tend to congregate in cities not named LA, Indianapolis or San Francisco.
So now that I have explained the tenets to my doctrine, the Cowboys, Redskins or Chiefs should make a lot more sense. None of these teams have won since the turn of the century but midseason success isn't completely out of the realm of possibility. The fan bases are notoriously batshit with just the perfect amount of risqué. Gun to my head I am going with Oakland though. The planned move to Las Vegas adds the most dangerous predictor of all:
5: Desperation.

The Patriots Dynasty will finally come to end
Ha! Just kidding, but it wouldn't be NFL preseason without predicting it right Jordan?